Driver
Justin Kreiner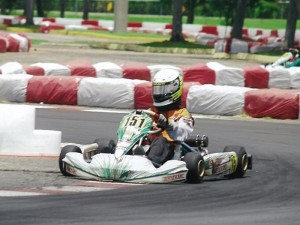 DATE OF BIRTH
2/19/1996
HOME TOWN
Jacksonville, FL
SCHOOL
Sandlewood Sr High
STARTED RACING
2004
CHASSIS
Tony Kart
FAVORITE TRACK
Homestead Miami
FAVORITE BAND
Shiny Toy Guns
FAVORITE MOVIE
Hit Man
FAVORITE RESTAURANT
Hooters
HOME TRACK
103rd St.
RACING GOAL
Land Ride in Racing
RACE MOST WANTED TO WIN
Daytona/WKA National
Justin Kreiner Bio
Justin Kreiner was born in Jacksonville Fl. on 2-19-96.  He had to have surgery when he was born because his intestines were twisted. He was 5.9oz and spent his first week in I.C.U. Because of the surgery he was always so small and under weight. That finally changed.
Justin has always wanted to race a Go-Kart for as long as I can remember but scared mom felt he was too young and small. We tried to put him in other things like T-Ball but he had no interest in anything but driving a Go-Kart. So on his 8th birthday we bought him a Kid Kart.
Feb-June all he did was practice every week until we decided to put him in a race on June 12th 2004. Well my 40 pound little man won his first race. Justin was hooked.
We entered him in all the local races and he brought home 10 1st place trophies. 6 months was all he had in the Kid Karts and we had to move him into the Cadet class. In the four years in the Cadet class it has had its ups and downs but for the most part he did very well, and still loves racing.
In 2010, Justin is moved into a bigger kart, Yamaha Jr. and Tag Jr.
Justin Kreiner Karting Achievements
2013
Justin moves to Senior ROK Series
Legends Car Test
2012
WKA National Yamaha Jr – Daytona ( Results: 49th / 41st )
WKA National Gold Cup X-30 – Jacksonville ( Results: 2nd )
WKA National Gold Cup X-30 – Barsville ( Results: 3rd / 3rd )
NFKC Series HPV Jr ( Series Standings: 4th )
FKCS Series Yamaha Jr ( Series Standings: 5th )
FKCS Series Tag Jr ( Series Standings: 25th ) *Running two races
2011
NFKC Series HPV Jr ( Series Standings: 6th )
FKCS Series Yamaha Jr ( Series Standings: 5th )
2010
NFKC Series HPV Jr ( Series Standings: 7th )
FKCS Series Yamaha Jr ( Series Standings: 6th )
2009
NFKC Series Cadet 1ST in Spring Championship ( Results: 5 Wins & 4 Runner-Up's )
FKCS Series Cadet ( Series Standings: 6th )
FKCS Series Yamaha Jr Sportsman ( Qualify: 1st )
NFKCS Series Cadet 2ND in Fall Championship ( Results: 1 Win & 4 Runner-Up's )
FKCS Series HPV Jr Sportsman ( Series Standings: 2nd )
2008
FKCS Series Cadet ( Series Standings: 5th )
NFKC Series Cadet Spring Championship ( Series Standings: 2nd )
NKFC Series Cadet Fall Championship ( Series Standings: 3rd )
NFKC Series Cadet ( Series Standings: 2nd )
2007
FKCS Series Cadet ( Series Standings: 6th )
NFKC Series Cadet ( Series Standings: 3rd )
First WKA National Event – Jacksonville: ( Results: 26th )
2006
NFKC Series Cadet ( Series Standings: 3rd )
2005
NFKC Series Cadet ( Series Standings: 2nd )
2004
NFKC Series Kid Kart ( Series Standing: 1st )
NFKC Series Kid Kart ( Wins: 10 )
Justin Kreiner In The Media
2013
Speed Channel appearance 'Dream to Champions' story of Brandon Winfield
2010
CBS/FOX schedule to run follow up story
ESPN Outlaw Sport Radio has come on board for a once a month talk show
2009
CBS/FOX!! 30 min show on Justin Kreiner 'Racing on Pennies' opening show to Daytona 500
SI Kids Magazine story on Daytona 'Photo of Justin & Mom'
ESPN Sports Radio Talk with Justin
2008
Sirius XM Radio Sports on kids in karting
2007
Local FOX News on karting
Qualify for first WKA National Event
2005
ESPN Show on karting
Kids in Sports Magazine