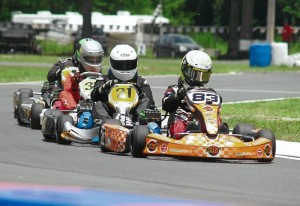 Florida karter Justin Kreiner out of Jacksonville, FL began his racing career just 6 years ago in 2004 at the age of 8. While he has not been in the sport of karting very long, he has developed a long list of racing accomplishments. In just his first six months of his racing career Kreiner brought home ten 1st place trophies and he has been on a roll ever since. The Florida driver has won many karting events since 2004 in a hand full of different classes and has been featured on many nationally televised shows and clips on networks like CBS, FOX, and ESPN. Now, for 2010 Kreiner has a new challenge ahead as he will be racing a bigger and faster Yamaha Jr and Tag Jr kart. With the exciting news for the upcoming racing season Justin K Racing is happy to announce a new partnership with Walters Web Design and together we are happy to release the new team website design. Log on at www.JustinKRacing.com to check out the new website.
WaltersWebDesign.com, just one of many partners of the team has become one of the most popular web design companies in racing and business markets. Not only does Walters Web Design focus on one form of racing, but all forms of racing. We have designed websites for drivers, teams, chassis builders, engine builders, managers, decal companies, tracks, and series in all of the following divisions, classes, and sanctions, of the racing ladder including; World of Outlaws (Both Sprints and Late Models), WDRL, UMP (All UMP Divisions), USAR Pro Cup Series, Skip Barber National Series, USF2000 Series (Powered by Indy Car Series), USAC Silver Crown Series (All USAC Divisions), Pro Challenge Asphalt Series, Championship Karting International, World Karting Association, Stars of Karting Series, Supercat Offshore Boat Racing, as well as many other sanctions and classes not listed.
Walters Web Design knows the design of the site itself is not the only thing that keeps our company growing at a rapid rate. The advertising we do for all our sites help to push visitors to all our client sites. Plus, our customer support is above and beyond our competition, featuring the WWD 48 hour website update guarantee which has become what we are known for. "We really take pride in all of our customer sites and we will continue to do so. We feel this is what has put us above all the rest in our industry." Walters Web Design is happy to be a part of "Justin K Racing" for the first season and we look forward to working with the team for many more years to come.
The team will be updating the site often with photos, results, and press releases. Please take a moment to view the Justin Kreiner Racing sponsors page and please visit the team partners for all your personal and professional business needs.
Justin Kreiner Racing would like to thank all of their team partners for the 2010 racing season. These include; Hooters, Impact Racing, Batteries Plus, DeCal Works, Krispy Kreme, Molecule, RB Components, NGK Spark Plugs, Stevenson Motorsports, Indocil Art, WaltersWebDesign.com, Champion Trophy, Great Atlantic Outfitters, Adkins Speedcenter, Wrangler Jean Co and Blue Bunny Ice Cream.
For more information on Justin Kreiner Racing please visit www.JustinKRacing.com.
Author: Walters Web Design