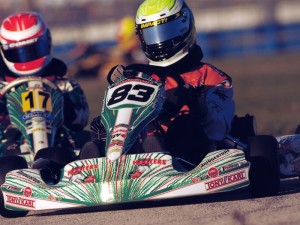 Maryland racers Jacob Heavlow and Zachary Wells led the way March 2-4 at Jacksonville, Fla.'s 103rd Street Sports Complex, where the World Karting Association RLV Tuned Exhaust Products Gold Cup Series opened its 2012 season with the Barnes Paving Nationals.
Heavlow, a 14-year-old multi-time WKA national champion, went three for three in a trio of junior Animal divisions, while Wells, a 10-year-old up-and-comer, won three of the four Sportsman 1 classes in which he competed. The two Old Line State racers were the only triple winners at Jacksonville of approximately 150 competitors who made up an encouraging count of 280 entrants, the largest Gold Cup turnout in over three years.
Triple winners
Heavlow was untouchable throughout the Barnes Paving Nationals. His team, led by father and crew chief Jim Heavlow, showed up with a brand-new MGM chassis and his trusty Bandit mount, which he's rode to numerous feature wins and championships over the last several years.
After five rounds of Friday practice the Heavlow team opted to stick with the tried and true Bandit, and the decision clearly was a good one as Heavlow proceeded to sweep the weekend in Jr Lite, Jr Medium and Jr Heavy.
Heavlow qualified on pole for each of the three classes and drove to heat and feature wins, by comfortable margins, in all three.
The Barnes Paving Jr Lite 14-lap main saw Heavlow cross the stripe 2.2 seconds ahead of fellow Maryland wheelman Douglas Barnes Jr. New York's Jake Lutz was third, followed by Florida's Aren Smith and Georgia's Skylar Robinson.
Heavlow pulled out to a commanding three-second lead in Jr Heavy. Lutz finished second, about five kart-lengths ahead of A. Smith. Tyler Smith was fourth and Robinson again rounded out the top five.
Thor Oil Jr Medium was the final and the tightest main-event win for Heavlow. After pulling out to a decent lead, Barnes and Lutz worked together to close the gap on the yellow Bandit. Try as they might, the pair could only get within 0.419 seconds of Heavlow before the checkers waved. Barnes, who finished second, did set the main's fast lap at 37.954. Lutz was third for the second time on the weekend, A. Smith fourth and Dustin Demattia fifth.
Zachary Wells won both Jr Sportsman 1 Box Stock mains and took one of the two Sportsman 1 Animal contests.
Wells, driving a sleek No. 43 MGM with a Richard Petty color scheme pulled out to a demanding 4.8-second lead in Performance North Sportsman 1 Lite. Wisconsin's Gabriel Zellner was next across the line, just ahead of New York's Joshua Stark. Coyote racer Nick Fauci was fourth and Jason Alder fifth.
Saturday's version of Sportsman 1 Box Stock saw Wells win by a cool three-second margin over fellow Maryland racer Matthew Miller. Cody Hall was third, Alder fourth and Luke Kohlbecker fifth.
Sunday's Sportsman 1 Box Stock Final 2 saw Cody Hall challenge Wells throughout the 14-lapper. Hall fell just short of capturing the win as Wells fended him off to the stripe. The margin of victory was a slight 0.221 seconds. Alder was third, Miller fourth and Kohlbecker fifth.
Zellner denies Wells of four wins
Gabriel Zellner was the only driver to best Wells in feature-race competition. Zellner won an exciting Sportsman 1 Heavy main and his closest counterpart was not Wells but young Coyote driver Nick Fauci.
Fauci hounded Zellner throughout the main event and made a desperate last-turn attempt at the pass as the pair came to the checkered flag. Fauci didn't have enough to clear Zellner and the two made contact. Fauci's Coyote slid off the track as his chance at the win disappeared. Zellner weathered the storm and wheeled his Arrow to a big feature win.
Wells was second, Alder third, Stark fourth and Fauci recovered to cross the finish line fifth.
Trent Barnes, Tebbe and Cowen score Sportsman 2 triumphs
Sportsman 2 Lite and Heavy featured some good action as Maryland racer Trent Barnes picked up two feature wins at the event tagged with his family's Barnes Paving as the title sponsor.
Barnes claimed the American Power Sports Sportsman 2 Lite win after a fierce battle with Dylan Murry, Connor Tebbe and Jacob Zellner. Barnes crossed the stripe a mere 0.086 seconds in front of Murry for the big win. Tebbe and J. Zellner both were less than a second back at the finish. The four raced out to a near 10-second advantage over Pennsylvania's Adam Cornell, who rounded out the top five.
Sunday's Sportsman 2 Heavy featured a spirited two-kart battle as T. Barnes and J. Zellner raced away from the rest of the field. The pair ran nose to tail throughout the 14-lapper and when the white flag waved, most onlookers were ready for J. Zellner to make a move for the lead.
Jacob looked to mount a challenge with a handful of corner left, but couldn't muster enough speed on his Arrow to move past T. Barnes' Bandit. T. Barnes crossed the stripe a couple kart-lengths ahead of J. Zellner for his second win on the weekend. Tebbe was over six seconds back in third. Cornell took fourth and Evan Cowen completed the top five.
Tebbe and Cowen split the Jr Sportsman 2 Box Stock finals. Tebbe, the defending national champion in the Clone-powered division, won Saturday's Final 1 over Cowen, Murry and Austin Schulz. Sunday saw Cowen cross the finish line ahead of Tebbe, Murry and Schulz.
Aren Smith doubles up; Demattia wins Restricted Jr
Jacksonville native Aren Smith won both Jr Box Stock mains to get his season off to a quick start.
The top five was identical in the two main events. A. Smith, on a Razor, won both over his twin brother and defending Jr Box Stock national champion Tyler Smith. Tanner Lee was third both days, Michigan's Tyler Woods fourth and Bailey Temples fifth.
Ohio's Dustin Demattia won a competitive Restricted Junior main over fellow Buckeye Sarah Luoma. The pair raced hard with New York's Ryan Bavineau and A. Smith throughout the 14-lapper. Demattia crossed the stripe only 0.165 seconds before Luoma. Bavineau was less than a half-second back in third, while A. Smith was only 0.592 seconds off the winner in fourth. Anthony Wimmer rounded out the top five.
Smith, Hall split LO206 Kid Kart features
Everyone enjoyed seeing the new LO206 Kid Kart class hit the track for the first time in the Gold Cup Series at Jacksonville. Three drivers made the call each day in the debut of the division.
Dalton Smith won Saturday's Final 1 on his Coyote. Dalton finished ahead of Cale Hall and Zac Fowler for the score.
Sunday saw Cale find some added speed and race his Razor to a comfortable win over Dalton. Zac again rounded out the three-kart field.
The LO206 Kid Kart races at Jacksonville were historical in WKA national competition. The race marked the first time a WKA national event included a competitive Kid Kart class. In the past – and currently in other WKA national series – Kid Kart classes run non-competition exhibitions.
Duvall, Sobel, Reed and Kohlbecker take 2-cycle wins
National 2-cycle racing made its return to the Gold Cup at Jacksonville with six main events between Saturday and Sunday.
Luke Kohlbecker and Jacob Duvall both claimed double-win weekends on their 2-cycle-powered mounts.
Kohlbecker swept the Haddock Ltd., Inc. Komet Sportsman mains. Saturday's Komet Sportsman Final 1 saw Kohlbecker wheel his Margay to an impressive 16-second win over Florida's Mayo Livingston. Alec Evans was third and Austin Schaff fourth.
Sunday's Haddock Ltd.-backed Komet Sportsman race was one of the more interesting affairs of the weekend. Schaff raced his No. 18 out to a commanding lead and looked to have the race easily in hand before he slid off the track in turn two and into the grass. By the time Schaff recovered both Kohlbecker and Evans made there way past with only a handful of laps remaining.
Schaff quickly overtook Evans and set his sights on Kohlbecker's Margay. The laps wound down too quick and although Schaff clearly was the fastest kart on the track at the time, he needed at least another lap to mount a serious challenge on Kohlbecker, who scored his second feature win of the weekend in the 14-lapper. Schaff was second, Evans third and Livingston fourth.
Jacob Duvall left little doubt who was the top X-30 Senior competitor at Jax. Duvall bested WKA Manufacturers Cup regular Colton Ramsey by 0.228 seconds to take Saturday's X-30 Senior Final 1. The top two were about a second and a half ahead of third-place Ian Tilbor. Indiana Birel pilots Blake Deister and Jackson Mears rounded out the top five.
Duvall was on his game with his DR Kart again Sunday. Caleb Loniewski's Margay was his closest counterpart in this one, although Duvall pulled away from Loniewski throughout the 14-lap main to take a convincing win by a 3.8-second gap. Tilbor was third for the second day in a row. Jay Vormwald took fourth and Deister fifth.
Franklinkart.com X-30 Junior saw five racers make the call each day and while the field was short, there was no lack of competition among the five entrants.
Saturday's X-30 Junior Final 1 main featured a spirited three-kart battle for the national win among Florida's Derek Sobel and Justin Kreiner and Ohio WKA Manufacturers Cup regular Emerson Reed.
Reed led most of the 14-lapper before Sobel and Kreiner made their moves on the final lap. Sobel overtook Reed in the challenging left-hander at the end of Jacksonville's 1,000-feet backstretch to take the lead. This opened the door for Kreiner to sneak his Tony Kart to the inside of Reed's Merlin. The pair made contact until Kreiner cleared Reed by a nose to take the second spot. Both followed Sobel's DR Kart across the stripe. Dustin Stross and Georgia Henneberry were fourth and fifth.
Kreiner, who scored his first-ever WKA podium in the event, laid down a quick lap of 34.150, which was the fastest lap of any driver in attendance at Jacksonville.
Sunday's X-30 Junior Final 2 was a two-kart battle for the win between Reed and Sobel. Reed again put his Merlin out front and led the entire race with Sobel hot on his heels. As the two took the white flag, onlookers waited with anticipation for Sobel's move.
Reed chose the bottom lane down Jax's long backstretch and forced Sobel to make a bid on the outside. Sobel made a move to the inside for the next-to-last corner, and Reed slid into the grass. Reed shot his way back to the racing surface and side-by-side with Sobel. The two raced that way across the finish line with Reed able to maintain a 0.031-second win over Sobel in one of the most exciting races of the weekend.
Stross was third, Henneberry fourth and Kreiner fifth after making contact with a tire barrier early in the race.
Meier the man in Money Race
Racing kicked off Friday night with the heavily anticipated Animal Heavy Money Race, which saw a pretty field 21 karts take the green flag. The 30-lap race featured a "who's who" of 4-cycle sprint racers, including heavy hitters like Gary Lawson, Tyler Sandmeyer, Sean Meier and Jimmy Heavlow.
The final laps saw multi-time Money Race winner Lawson and Heavlow, a late entrant behind the wheel of a Robbie Jones MGM machine, partake in an intense battle for the top prize. Lawson and Heavlow traded the lead several times over the second 15-lap run, and with the checkered flag ready to wave the pair raced side-by-side and made contact in the final corners.
Both drivers slid off the track and saw their chances at the first-place laurels go away with it. Coyote racer Sean Meier took advantage of the incident and what looked to be a solid third-place effort quickly turned into a big race win for the Florida wheelman.
Meier led a trio of Coyotes across the stripe with New York's Dylan Zobkiw and Ohio's Dakota Bell in tow. Lawson recovered to finish fourth and Joshua Stiefel rounded out the top five. Sandmeyer, Heavlow, Michael Greiner, Brett Peters and Zachary Linsell finished sixth through 10th.
Meier pocketed over $350 for his effort. The Money Race was sponsored by John Zobkiw's Year Around Tax Service, which donated an extra $200 to the purse in addition to the 75 percent payback from entry fees.
No repeat winners in 4-cycle senior mains
No driver won more than once in the nine senior 4-cycle feature events at the Barnes Paving Nationals.
An MGM bested a Coyote in Coyote Motorsports Stock Lite. Robbie Jones, who ran his first Gold Cup event as a senior driver at Jacksonville, won a close affair over veteran Russ Marinucci in the 14-lapper. Maryland's Zachary Linsell was only a handful of kart-lengths back of the lead duo in third. Dakota Bell faded in the event and ended up over seven seconds behind the winner in fourth. Douglas Schmidt rounded out the top five.
Maryland veteran Tyler Sandmeyer was the class of the field in Saturday afternoon's Stock Heavy. Sandmeyer and his sleek black MGM gapped Gary Lawson by about 15 kart-lengths in the 14-lap affair, but ended up crossing the stripe nearly five seconds ahead of runner-up Jimmy Heavlow after Meier and Lawson came together in the final corners.
Meier actually crossed the line second but was penalized to fifth for an over-aggressive move on Lawson. The Meier penalty gave Heavlow second, Richie Kuhn third and Lawson fourth.
Sunday's Stock Medium was the weekend's largest division at 22 starters. After getting shuffled around early in the race, Sandmeyer took control with less than half the race remaining and proceeded to pull out to about five to 10 kart-lengths over Lawson.
While Sandmeyer looked to have the race in hand, he made a rare miscue in the final corners and slowed his speed just slightly to take a more defensive line to hold back Lawson, who was still over five kart-lengths back. This opened the door for Lawson, who quickly moved to the inside of Sandmeyer. The pair made contact before Lawson pulled ahead to capture his first and only win of the weekend.
Sandmeyer settled for second, about one second ahead of Dakota Bell's Coyote. Meier was the hard charger of the race; he started 12th and finished fourth. Ryan Bennett rounded out the top five. Harry Smith was sixth, Schmidt seventh, D. Zobkiw eighth, Jim Lipari ninth and Linsell 10th.
The new Margay Racing Products Animal Amateur Medium was a barnburner on Sunday afternoon. Reserved for racers who have not won a national championship (similar to Restricted Junior), the initial run of the class boasted over 10 entrants and saw some good racing for the win among eventual victor Ryan Bennett, Paul Headley, Harry Smith and Joshua Stiefel.
H. Smith led most of the affair and had a formidable lead over Headley, Bennett and Stiefel at one point. However, the long backstretch allows the aid of the draft and the second-through-fourth-place trio worked together to run down the Michigan veteran.
Headley led for a short time before Bennett shot past with less than three laps to go. The MGM driver pulled out to a decent advantage over the last few laps and took the checkers a handful of kart-lengths in front of Headley for the first Amateur Medium victory. H. Smith followed Bennett and Headley across the line for third, Stiefel fourth and Greiner fifth.
The well-respected and talented Chris Carroll made his return to the Gold Cup circuit aboard a No. 2 Coyote and returned to the top step of a national podium in the process with his popular triumph in Saturday's Masters Medium.
The race featured a three-kart battle for the win among Carroll, defending national champion Steve Roberts and Coyote wheelman Tim Stiefel. Carroll made his move late in the race after trading the lead with both Roberts and Stiefel several times. He won the 14-lapper by a three-second margin over Roberts. Stiefel was third, Bradley Farmer fourth and David Barry fifth. Carroll's triumph marked the first time Roberts was beat in a Masters main event in over a year.
The feel-good story of the weekend came in Sunday's Target Distributing Masters Heavy feature. Only two karts took the green and Tim Stiefel immediately pulled out to a big advantage over David Barry. But with a handful of laps remaining Stiefel suffered mechanical problems and pulled off the half-mile circuit. This gave Barry the opportunity to take the lead and drive to an uncontested victory, his first in numerous years of trying.
The proud Performance North owner and Gold Cup sponsor was emotional after the win and fans and followers of the series couldn't have been happier to see the Connecticut veteran pick up a big national victory.
The Senior Box Stock finals were two of the largest fields of the weekend at over 20 starters in each. They also were a couple of the best races.
Saturday's Sr Box Stock Final 1 saw Tyler Sandmeyer pull out to an impressive lead on an orange Paul Rice-owned MGM offset. However, Sandmeyer's lead began to shrink with a few laps left as Razor pilots Tyler Bell and Steven Schlenke worked with Ohio's Eric Fagan to close the gap.
The importance of the draft, especially in the slower Box Stock classes, helped the trio close on Sandmeyer and make the move past the Stock Heavy victor on the final straightaway.
After the dust settled from the final corners T. Bell was out front and claimed the national victory for Razor over Schlenke, Fagan, Sandmeyer and Matthew Kessinger. Defending national champion Joey Miller was sixth, Matthew Horst seventh, Bob Barthelemy eighth, Todd Horton ninth and Carter Schlenke 10th.
Sunday's Sr Box Stock weekend capper featured another lively four-kart battle for the win, this time among Fagan, Rob Hindery, Connor Lund and Miller.
Similar to Sandmeyer on Saturday, Palm Coast, Fla., veteran Hindery led from the green flag before things got dicey on the last lap. Hindery was a sitting duck on the backstretch as Fagan and Lund worked past the Razor driver to take the lead.
Fagan, who ran third most of the race behind Hindery and Miller, made an aggressive pass for second on Miller with a couple laps to go and then sucked up on Hindery to make the pass for the win on the last lap.
Lund also got past Hindery to take second. Hindery settled for third, Miller fourth and Horst fifth. Saturday's winner T. Bell was sixth, Patrick O'Neal seventh, S. Schlenke eighth, Robbie Jones ninth and Joshua Copeland 10th. Fagan scored the win on a decade-old Bandit.
Coyote owner Jim Lipari was the only entrant in Saturday's Animal Modified Medium. Lipari made a few laps before pulling in and was credited with the victory.
Looking ahead…
With the conclusion of the Barnes Paving Nationals at Jacksonville, Gold Cup teams now set their sights on a return to the Lamar County Speedway in Barnesville, Ga., for the April 27-29 Michigan Kart Supply Nationals. Barnesville, a tradition-rich sprint karting facility, hasn't seen a WKA national since 1994, when both the Gold Cup and Manufacturers Cup ran separate events.
Eighteen years is a long time, and teams are already looking forward to and preparing for a historic return to the tight 0.27-mile sprint track.
To view and print the Michigan Kart Supply Nationals Barnesville entry form go here.
Justin Kreiner Racing would like to thank all of their team partners for the 2011 racing season. These include; Hooters, Impact Racing, Batteries Plus, DeCal Zone, Krispy Kreme, Molecule, RB Components, NGK Spark Plugs, Stevenson Motorsports, Indocil Art, Walters Web Design, Champion Trophy, Great Atlantic Outfitters, Adkins Speedcenter, Wrangler Jean Co and Blue Bunny Ice Cream.
For more information on Justin Kreiner Racing please visit www.JustinKRacing.com.
Author: Justin K Racing